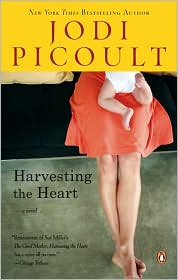 Please note: This review contains spoilers! I don't usually write about what happens in the end, but this time my review of the book isn't complete without spoiler commentary, so read at your own risk!
It's been a while since I've read a Jodi Picoult novel. You may remember from
My Sister's Keeper
and a couple others that I tend to lose sleep over these books (kind of like I did lately with the
Twilight saga
).
I didn't pull any all-nighters with
Harvesting the Heart
, but I did read it in just a few days. I've been back up to my old reading speed lately, and it's been kind of nice. I'd forgotten how good I feel when I read a lot — it seems to recharge my batteries, so to speak.
Harvesting the Heart
confronted several controversial issues, as Picoult's books usually did. Abortion was sort of a sideline issue in this book, though the story didn't actually deal as much with the moral issues of abortion as much as the issue of a woman's and mother's responsibilities versus a man's and father's.
It was a good book, but I have to say I wasn't as thrilled with the way it ended. I personally couldn't understand the main character's decision to go back to a husband who had marginalized her as much as he had. Going back to her child, yes, of course — but her husband? Perhaps he would have been different, after three months of doing all the childcare himself — now that he knows what it was like for her — and I think that's suggested, in a way... But I still can't understand it.
Regardless of how it ended, though, this book was quite captivating. It's definitely more of a woman's story, but it's a well-written look at what it costs a woman to give everything up for a husband and a family.