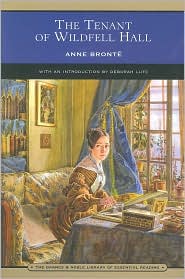 Note: The image links to Barnes & Noble's paperback and ebook editions of this book. To get a free ebook, I recommend Girlebooks.com, as their ebooks tend to be well-formatted.
This is actually the third time I've read
The Tenant of Wildfell Hall
.
The last time
was just over two years ago, and the first time was in the spring of 2004, for a class I took my senior year.
If you know me or read my blogs frequently, you probably know that I have a strong interest in the Brontë sisters. In fact, my husband and I spent four nights in Haworth on our
recent trip to England
— see pictures from our trip
here
and
here
. In fact, I bought a 1920s edition of
The Tenant of Wildfell Hall
in Paris at
Shakespeare and Company
, and started reading it on train ride back to London.
I suppose I got only about 30 or 40 pages into the book on our trip, since I had a bunch of other books I was reading at the same time. So when I finally picked it up again after finishing
Bad Men
, I decided I'd better start over.
The introduction in this particular edition really annoyed me. Granted, it was printed in the 1920s, before Brontë had come to realize how good Anne's work really was — but still, why would anyone write an introduction for a book they so obviously hated?
Here's what I mean:
Anne's novel is not gruesome. It is only dull, unspeakably and lamentably dull. It bores to tears. It bored her to write it. Surely it bored her. Charlotte (in her Preface to the posthumous edition) tells us how all Anne's being rose up in loating of her self-appointed task; how her sisters implored her to drop it; and how in her inflexible rectitude she persisted.
The introduction is short, less than a handful of pages, and at the end the writer concludes that although it is a terrible book, it must be respected for being an early feminist novel. But apparently even that doesn't earn it
that
much respect.
As for what she said about Charlotte and Emily — well, it's no secret that Charlotte didn't think much of this particular book. In fact, in one of her letters she told a good friend that the book was a mistake from beginning to end, and that was why she wasn't going to issue a second edition. (She didn't, so I don't know what "posthumous edition" the writer is referring to — that of
Agnes Grey
and
Wuthering Heights
, perhaps, which Charlotte
did
republish and write a preface to?)
Finally, I'm sure it
was
a difficult and painful novel for Anne to write — after all, her alcoholic brother had just died — but neither that fact or the novel's moral message make it boring, in my opinion. In fact, I think that although there's no crazy wife in the attic or revenge against future generations, the love story is quite compelling even if you ignore the merits of the fabulous social commentary.
Honestly, I think it's a shame that
Jane Eyre
and
Wuthering Heights
are so often studied without including the third sister's masterpiece. In fact, it was a long time before I even realized that there
was
a third sister. It's just such a shame that such a talented writer is so often ignored by scholars!