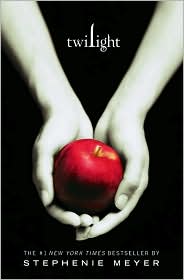 It wasn't until recently that I even considered reading Stephenie Meyer's popular Twilight Saga. The people in
NaNoWriMo
with me last year made fun of it a lot, and unfortunately I listened.
What changed was that my husband rented
Twilight
(the movie) from Netflix. His brother had really liked it, so I grudgingly agreed to watch it.
And you know what? I loved it! So much, in fact, that I insisted on watching the movie a second time before we sent it back — something I don't often do.
I then decided that I needed to read the books. We went to our favorite Barnes & Noble, but a helpful girl behind the cafë counter told us to order the set from the website, because they were much cheaper that way — about $13 per book for all four hardbacks. (The first two are $11 a book for the paperback, but the last two are only available in hardback right now.) So then I had to wait for them to arrive... and, once they arrived, I made myself wait until I'd finished
The Tenant of Wildfell Hall
, even though I've read it before, simply because I don't like not finishing books.
So I finally started
Twilight
a few nights ago, just after finishing
Tenant
. I read only a few pages the first night, and about 40 or 50 more the next night. And then I read all the rest yesterday!
My friends in NaNoWriMo are so, so wrong about this book. I loved it, every minute of it. I couldn't put it down. I read it while babysitting, and stayed up for nearly five hours last night to finish the remaining 450 pages.
The book is a lot like the movie — or I guess I should say the movie is a lot like the book. It's incredibly intense and sensual. Wow, just wow. I don't know that I can put much more than that into words — you'll just have to read it for yourself.
Needless to say, I'm already reading the next book,
New Moon
.