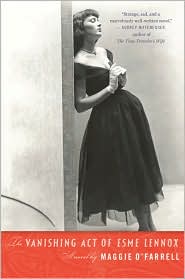 I bought Maggie O'Farrell's
The Vanishing Act of Esme Lennox
ages ago — so long ago I don't remember getting it, though I most likely got it from the bargain shelf at Barnes & Noble. My mom even read it before I did, and she loved it so much that she has been bugging me to read it ever since.
The book is fairly short, just under 250 pages, and is written in a style that is fairly fast and easy to read. It's extremely well written, so that the writing style changes depending on which character the story is focusing on. There are no chapters, only section breaks, usually dividing the changes in perspective.
The story is a mystery of sorts — who this woman really is — and the answers are given slowly, through each change in perspective. It's also a very sad story, of how just being different can set into motion things that change one's life. It's also a story of how the repression of women that used to be commonplace has the power to affect us even today.
I know I'm not doing this book justice in how I'm describing it. All I can say is that it is a sad, powerful story about the skeletons in one family's closet, and how those skeletons changed the lives of three separate generations.