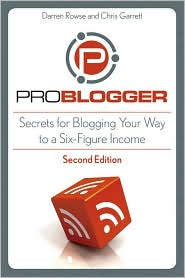 This is actually
the original
book I was reading on
our vacation
in March, before I got distracted by several other books. I started out reading it on the airplane, but that was about it. Unfortunately, I kept getting distracted after we got back, so although it's a short book and formatted so that it's a very easy, fast read, it took me until just a few days ago to finally finish it.
However, the reason I really picked up this book was as a writing/career book, so you'll find the review on Reading 4 Writers.
Edit: I decided to get rid of Reading 4 Writers since I wasn't updating it regularly. I will be importing the more detailed review to Livre du Jour soon, at which time I will update the link below.
ProBlogger: Secrets for Blogging Your Way to a Six-Figure Income
I just have to say, though, that this book is not really just for career writers. If you maintain a blog and you are interested in how to make it better — or even earn some money from it — you will probably benefit from the information provided!