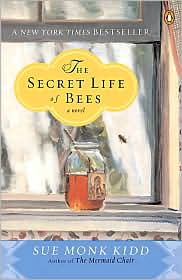 This was actually my second time reading Sue Monk Kidd's
The Secret Life of Bees
. I read it for the first time several years ago, probably just a year or two after it came out.
I liked the novel the first time I read it, but I actually think I had more appreciation for it the second time I read it. I was motivated to read it again because I saw the movie with my mom several months ago, and loved it.
I'm not usually a big fan of movie adaptations, but this is one of several recently that I think was fabulously done. First of all, it has my favorite young actress in it,
Dakota Fanning
, and I think she played the role beautifully. (You ought to hear the breathless, nonstop way she rolls out Lily's lies in the movie. Perfect!) All of the older actresses were perfect, too, but especially
Queen Latifah
as August. I found that I was imagining these two in the roles as I read, and not in a bad way, either!
It's not often that I say this, but I actually think the movie made me appreciate the book more. It is a perfect visual counterpart to the novel, which is excellent in its own right too. An unforgettable story of a poor white girl growing up during the Civil Rights Era — definitely worth reading... and watching!