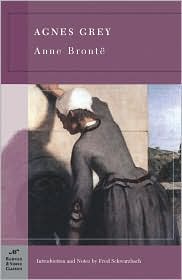 Note: The image links to Barnes & Noble's paperback and ebook editions. If you prefer a free ebook version, you can download a nicely formatted one for free from Girlebooks.com.
I actually finished this book at least a week ago, but I've been really busy and kept forgetting to blog about it.
Anyone who knows me or reads my blogs often probably already knows that I'm a Brontë fanatic. I visited Haworth in March, and have read
Jane Eyre
,
Wuthering Heights
,
Shirley
, and
The Tenant of Wildfell Hall
multiple times each.
Anne Brontë is my favorite of the three sisters — I absolutely adore
The Tenant of Wildfell Hall
. I hadn't read
Agnes Grey
yet, though, so when a friend gave me a book on the Brontë sisters' books and the influences on them, I decided I needed to hurry up and finish reading their novels before reading the new book.
Flipping through the book our friend gave me, I saw a comment about how the reader can see a lot of growth between
Agnes Grey
and
The Tenant of Wildfell Hall
. This is absolutely true.
Agnes Grey
had a lot of description and much more "telling" than "showing," and is a much less involved plot than
Tenant
.
Tenant
, on the other hand, shows a lot of growth in the development of plot, characters, and narration.
Agnes Grey
is an interesting story and worth reading if you are a big Brontë fan — I think it really helps to understand Anne's work to see its progression. I also can't help but wonder how much of the observations and events that took place in
Agnes Grey
came from Anne's real-life experiences as a governess. However, the book is not for everyone, and is much more difficult to appreciate on the basis of the story alone than
Tenant
.