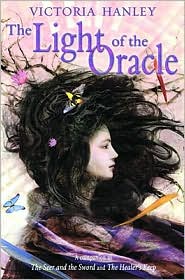 It's pretty bad when your reading list is so long you even forget what books you have waiting on the shelf. But that's exactly what happened with
The Light of the Oracle
, by Victoria Hanley.
I bought this book months ago when I saw it at Barnes & Noble. It's an autographed copy by a local author, not to mention it's in my favorite genre (young adult), so I thought it was worth giving a try.
I wasn't disappointed.
The Light of the Oracle
is a fantasy about a young woman with special powers and visions, who is discovered by the Master Priest and taken to the Temple to train as a handmaiden. There, she encounters the shady politics that the Temple is involved in.
The book has all of the characteristics of great young adult fantasy: The action starts off immediately, the fantasy world is solidly created, and the heroine is properly flawed — and unlikely heroine. It is also a fairly short, fast-paced story that didn't take me all that long to finish.
This is apparently the author's third book, and a continuation of the world created in her earlier two. I will have to check them out as well!