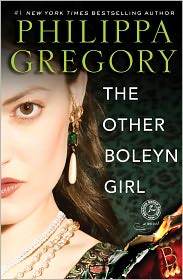 Last year, my husband and I watched
The Other Boleyn Girl
(the movie), and I loved it so much that I promptly put Philippa Gregory's book on my stack of books to read. I'd bought the book a few years ago, but I have so many waiting to be read that I hadn't gotten to it yet. In fact, even moved up to the "short" stack, it still took me months and months to get to it, if that tells you anything!
Anyway, in the meantime we'd also watched the first two seasons of the TV series
The Tudors
, and I'm now very glad I'd waited to read the book. I'm not usually a fan of watching the movie first, but in this case whatever you do with the movie you also ought to do with the TV series: Either watch both before you read the book, or read the book before you watch both.
This is because there is A LOT that wasn't included in the movie, but was definitely present in the TV series. The major difference is that the TV series cuts Mary out of pretty much everything, so none of the events are shown from Mary's point of view. But since it's a TV series, there was also more time to include many of the complicated events that led up to Anne's beheading.
I have to say one more thing about this book. It's a perfect example of how sometimes hastily flipping through a book won't really tell you anything about whether you'll like it. When I flipped through it after watching the movie, I wasn't sure I'd like it, particularly the writing style. But I was quite wrong: I loved it! It's hard to say what makes us decide to read certain books, but apparently judging a book by its cover isn't the biggest danger. I'm glad I decided to read this one anyway!