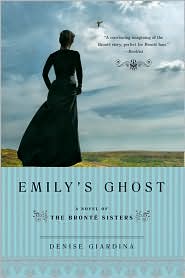 I actually finished
Emily's Ghost
by Denise Giardina some time ago, but for various reasons I kept forgetting to blog about it.
Many of you will remember that I am a big fan of the Brontës, especially Anne. I've read all of their books now except one (Charlotte's
The Professor
, which is next on my list).
At first I was skeptical of a fictionalized account of their lives, but my mom read it first, and when she talked about it I thought it sounded very well researched. I decided to read it.
I'm glad I did. I thought Giardina's portrayals of the sisters were very well done, right down to Charlotte's controlling nature and Anne's role as the peacemaker. Some of it was hypothetical, of course — such as Emily having a relationship with William Weightman, or Charlotte burning Emily's unpublished second novel after her death — but it was all based on very thorough research, so I'm mollified.
I especially like being able to picture the house and the moors exactly when Giardina wrote about the sisters there. Having been to
Haworth
in March definitely enhanced my enjoyment of this novel!