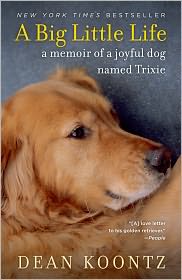 I'm still playing catch up — I finished Dean Koontz's
A Big Little Life
just over a week ago. It was a surprisingly good book — I haven't read anything by Koontz since high school, when I tried a couple of his suspense novels and discovered I wasn't a big fan.
A Big Little Life
, on the other hand, was wonderful. It's a memoir about his dog, and it has a lot of heart and humor to it, not to mention a lot that a dog owner and lover can relate to.
I love the funny stories, but one of my favorite aspects of the book was his constant denials of what modern science claims: that animals don't feel emotion, don't remember for more than a few weeks, and aren't capable of higher-level intelligence. With two cats, two dogs, and a horse, I can tell you that all of those claims are — well, horse shit. And it was really refreshing to read a book by someone else who feels the same way.
I told my husband the next day that I love dog memoirs, but one of these days I've got to learn to
not
read the final chapter. I don't want to read about the dog's death, and since the author always seems to feel the need to make their audience cry, that's how every single dog memoir I've ever read ends. Would someone pretty please write a memoir about their dog that is still living, so that I can read a dog memoir with a
happy
ending?