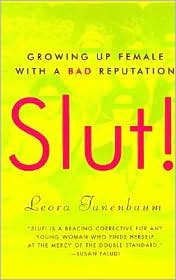 I ran across this book —
Slut! Growing Up Female with a Bad Repuation
, by Leora Tanenbaum — while I was babysitting a couple of weekends ago. What woman wouldn't be able to resist a book with such an arresting title? I read half the book there, and then checked it out to finish it.
First of all, the book is written in a very readable style. It read very quickly and easily for nonfiction, yet it wasn't watered down by any means. It was well-researched and informative, yet incredibly compelling.
I think it's the women's stories about how they were labeled as sluts that make the book so addicting. Tanenbaum intersperses the first-person accounts with well-researched passages, using a dual approach of individual stories and research in order to make each point. It's a very effective approach, and keeps you interested in the book until then end.
Another thing that makes this book so compelling was the ability to relate to many of these stories. I was sexually active as a teen, and although I never had it as bad as some of these women, I certainly suffered some grief thanks to the sexual double standard.
One of the sections in this book that was most striking to me was the part that talks about the fallacy of romance. Tanenbaum talks about how young girls are taught, via romance novels and other forms of media, that sex is based on love and romance. She also offers research that demonstrates the girls who are taught that love and sex are (or ought to be) the same thing, are the ones who are the most co-dependent, and suffer through the worst breakups. On the other hand, she argues, girls who are taught that it's okay to feel desire, and even to act on it if you are safe about it, tend to be more independent and move on the easiest after a breakup.
It's interesting, because basically Tanenbaum is pointing out that society's chief way of trying to protect our daughters — telling them it's okay to sleep with a guy if you love them — actually reinforces the romance trap, and makes girls
more
likely to get hurt. (i.e., If they take birth control or carry condoms, they are planning for sex, which makes it seem unromantic and skanky... So they have unsafe sex instead of admitting that they have actually thought about or wanted or planned for sex.)
I think this is an important book on two levels: 1) to help women come to terms with the sexual double standard they faced when they were growing up, and 2) to encourage parents and future parents think about what they plan on telling their daughters about sex.