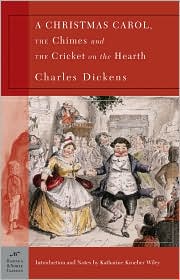 Edit 3/30/2011: The illustrated edition I own is no longer available on BN.com. Instead I've linked to an inexpensive paperback copy. If you would prefer the ebook, you can download it for free from Project Gutenberg.
With Christmas approaching, I decided a couple of weeks ago that I wanted to read something in the spirit of the season. I usually read something sentimental to my childhood or my literary development every year around this time (a couple of years ago it was the
Chronicles of Narnia
, and last year it was supposed to be
Lord of the Rings
, though I didn't actually get to it until several months later).
As a kid, I can remember frequently watching this movie version of
A Christmas Carol
, but I don't actually remember ever reading the book. Still, I have vague memories of seeing the book on our bookshelves and even in my room, so I think I must have at some point.
I bought my own copy of the book last year when I happened to see it at Barnes & Noble. It is the exact same copy that is displayed in the Amazon link, and it is a beautifully illustrated edition that I would highly recommend to anyone who loves beautiful books. The illustrations make it a lovely copy for families with children, but even if you don't have kids, I promise you will love this book.
Anyway,
A Christmas Carol
is actually a fairly fast read; an adult can probably finish it in a couple of nights pretty easily, and if you read a chapter a night, you could read it to a child in under a week. It's a great book to read as Christmas approaches.
The book has been in the news lately: My favorite writer's newsletter, WritersWeekly.com, ran a story on how
A Christmas Carol was self-published
(which I didn't know), and the
New York Times
did a blog post on how
the original manuscript
shows the evolution of the story to its final published form.
When I was a kid, my dad used to read "The Night Before Christmas" to us every Christmas Eve. Well, I can definitely see this particular book becoming a part of my family's traditions someday. It was nice to reread it — I just can't believe it has taken me so many years!