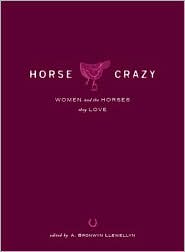 I had totally forgotten I had this book,
Horse Crazy
by A. Bronwyn Llewellyn, until just a week or two ago. I was going through my stack of books to read, looking for something that appealed to my mood at the time, when I found it. It wasn't what I was looking for right then, but I came back to it soon enough!
This is a great little book, full of short anecdotes about women and their horses. It's the kind of book that would make a great gift for a horsewoman. At around 200 pages, it's also a fast, enjoyable read.
What is especially nice about the book is the variety of stories. Some are about losing horses, others about finding horses. Sometimes the stories take place when the women are just kids, while others take place when they are adults. It's a great collection of stories that demonstrates that, no matter how different horsewomen seem from one another, we have one unifying factor that holds us together: We all love our horses!