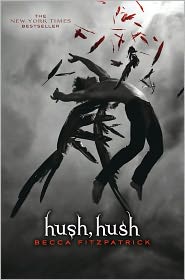 A friend and colleague sent me an advance reading copy of
Hush, Hush
a little while back, after she had read and reviewed it. I finally started it one evening toward the end of November — and hardly stopped reading until I'd finished the book, later that night.
If you enjoyed
Twilight
, I'm pretty sure you will like
Hush, Hush
. It's a similar idea — mortal teenage girl falls for immortal guy — and Becca Fitzpatrick carries the story in a very similar style as Stephanie Meyer, with a similar narrative pace and lots of sexual tension to keep you turning the pages!
Interestingly, there is a different ending (just the very last page) in the advance reading copy than the final published edition. I've read both and I have to say I like the ARC version better! If you read the published version, you'll have to tell me — without seeing the ARC version, what did you think of the ending?