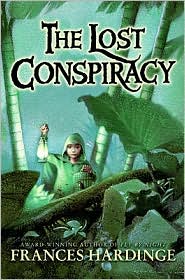 Yesterday, just 10 hours after I'd finished blogging about
Founding Mothers
, I finished reading Frances Hardinge's
The Lost Conspiracy
. I'd decided to devote some time to reading during the day, but once I started, I found I couldn't bring myself to put this book down!
I first heard about this epic YA fantasy novel a little more than a month ago, when I read NPR's listing of the
best YA fiction in 2009
. The book was loosely compared to Harry Potter, in the sense that it's
one
volume instead of seven, but in truth it's more like Tolkien or George R.R. Martin in young adult form than Harry Potter.
I really liked that the main protagonist was a child. A very clever child, sure, but a child nonetheless, with a child's fears and insecurities. You can see her change and grow stronger during the course of the novel, until at some point you stop thinking of her as a child, and start thinking of her as the heroine in a truly amazing journey.
If reading speed says anything about how much I would recommend a book, consider this one to be
highly
recommended. I finished it after only nine hours of straight reading — I hardly even put the book down to eat dinner!