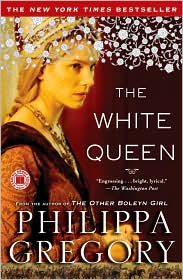 You may remember that over the summer, I read Philippa Gregory's
The Other Boleyn Girl
. This was the second book of Gregory's that I'd ever read — I read one of her early ones,
Wideacre
I think, when I was much younger, though I don't remember much of it now — and I was very impressed.
My mom suggested recently that I should read
The White Queen
, her most recent book. Although this takes place long before her books about the Tudors, it is written in much the same style — well-researched, but with a touch of imagination and fiction that brings the history to life.
I really like Gregory's way of researching everything thoroughly, and then including an author's note at the end of the book that indicates where she may have deviated a bit from the history, or where she has had to choose from conflicting accounts. Her chapter headings, which always include the date, make it very easy to follow the story and the passage of time.
I particularly like how she brings the characters to life. In
The White Queen
, she highlights Elizabeth Woodville's family myth that they are descended from Melusina. Elizabeth and her mother are characterized by having special powers that play a role in the historical events. Although this is of course a fictionalized interpretation, it really makes Elizabeth's character come to life in the book: her ambition, her power, and the lengths that she would go to achieve what she wanted.