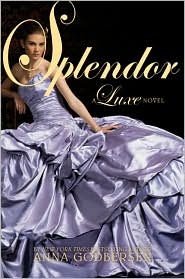 The other night, just a couple of days after finishing
Anna Godbersen's Envy
, I finished reading the fourth book,
Splendor
. It seems like this is the final book in the series, as the girls' stories were pretty much all wrapped up at the end — no cliffhangers this time.
During most of the book, you had the feeling that you were approaching some kind of climax in each of the girls' stories. Interestingly, though, not all of them had the typically "happy" endings — meaning that not all of them ended up with the man they loved. In fact, certain characters that I felt certain
would
end up together, didn't.
I think that's one of the things that I ended up liking most about this entire series. The girls' characters were very well-written, and all of them were very different. You had the schemer; the independent girl; the super feminine, slightly helpless girl; and another character who started out as a schemer but turned out to be quite strong and independent in her own right. Not all of them got what they wanted, but it was
right
somehow, the way it all turned out.
I've liked these books since the beginning, but as I've already mentioned, I liked them more and more as I went along. They are quite addictive — Godbersen's pacing is perfect, and you can't help but keep reading to find out what will happen to each of the characters. And now that all of the books have been published, you won't have the problem I had — you won't have to wait for the next book to come out before you can find out what happened to each of the characters!
For those who are interested, here are my reviews to each of the three books that came before
Splendor
:
The Luxe
Rumors
Envy