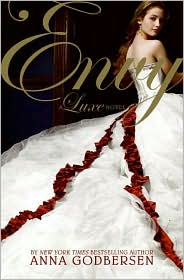 It has been a while since I read
The Luxe
and
Rumors
, and I was worried at first about remembering what had happened in the earlier books. I needn't have worried, though — Anna Godbersen skillfully wove little reminders into the narrative, without boring you with all the backup (I used to hate the way series books did that when I read them as a kid).
Looking back at my earlier reviews, I guess I didn't like
The Luxe
as much as
Rumors
. I said it was good, but not necessarily moving.
Rumors
, however, I found "addictive." Perhaps Godbersen is improving with practice, or maybe I've just gotten more into the spirit of her books, which are full of conniving young debutantes and set in turn of the century New York City.
I found
Envy
equally as addicting as
Rumors
, and finished it in just a couple of days — fast turnaround for me, lately. I wanted to be able to read
Splendor
, which I'd also checked out from the library, before it was due back, since I probably won't be able to renew it. I'm sure it will have a hold on it.
Envy
did resolve the cliffhanger ending that I was so disappointed about in
Rumors
, and didn't end with quite as painful a cliffhanger as its predecessor. Maybe that's because I knew I had the next one waiting for me, though! I'm looking forward to finding out what happens to Godbersen's compelling — and growing! — cast of characters next.