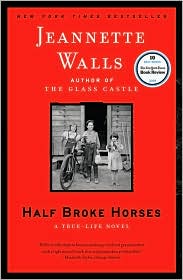 Being on the subject of horses, I guess, after I finished reading
How to Think Like a Horse
I decided to read
Half Broke Horses
by Jeannette Walls. It was more of a practical decision, though — I'd gotten the book from the library, and knew I wouldn't be able to renew it because it had a hold on it.
You may remember earlier this month when I read
The Glass Castle
, a memoir of the author's childhood.
Half Broke Horses
is a novelization of her grandmother's life, so kind of a prequel to her memoir. You do see some of the same people from the memoir, but it also tells you more about her grandmother, whom you only glimpse in her memoir.
Horses are definitely a theme of her grandmother's life. Lily was breaking horses from the time she was a little girl, and then of course there is also the delightful story of when the locals tricked her — their young, innocent schoolteacher — into riding a bronc. At least, they thought they tricked her — but they soon found out she knew what she was doing, and she was able to earn their respect that way.
The same ironic humor that I loved in
The Glass Castle
also appears in the narration of
Half Broke Horses
. From how Walls described her grandmother in the first book, I'm sure she is right on target using a similar narrative style for Lily. She sounds like she was quite the pistol — someone I would no doubt have loved to know!