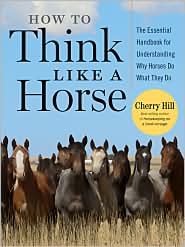 I've actually been reading quite a bit lately, but I've gotten behind on posting my reviews because I've been so busy with work and riding my horse. Now it's time to play catch-up!
I spotted
How to Think Like a Horse
a couple of months ago when my husband and I were at
Tattered Cover
, Denver's indie bookstore chain. I spent most of our visit flipping through the book, and skimmed probably half of it while we were there. I wasn't sure if I wanted to buy it, though, so I decided to check it out from the library.
Like most of Cherry Hill's books, though, it turns out that this would be a great one to have on my shelf of horse books. I'll probably end up buying it at some point, even though I've already read it. I'd decided not to because I thought it would appeal more to beginners than to someone who already has a horse, but as it turned out I still found lots of useful stuff in this book.
If you want to read a more in-depth review, including what I think of the book from a horse owner's standpoint, please visit my
Pony Tales Blog
.