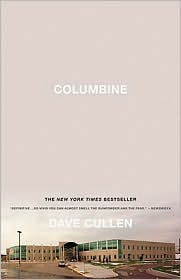 It's been a long time since I've updated my blog, but it's not for lack of reading. I have a lot of catching up to do, and I will do my best to remember everything I've read since last time I blogged. But first, the book I finished most recently:
Columbine
by Dave Cullen.
For those of you who don't know, I live in the Denver Metro area, but I grew up in unincorporated Jeffco — the area known as Littleton to the post office and everyone who has heard of the Columbine school shooting. I attended Chatfield Senior High, Columbine's sister school and rival, and although I graduated two years before the massacre, my sister was a sophomore at Chatfield when it happened. I knew people who went to Columbine at the time, and was even friends with someone who knew Eric Harris and Dylan Klebold.
I'm not sure what I'm trying to say here, except that I had something of a connection to what happened. I feel awkward about saying so, because to those who were
there
, my connection would be diddly squat, but then again, I have more of a connection than the average person who just saw the reports on the news.
In any case, what it comes down to was that I had some personal interest in Dave Cullen's
Columbine
. There was a lot in it that I didn't know, for all my supposed connections — I believed many of the myths, but then again, according to Cullen even a lot of the Columbine students came to believe them. But hopefully his book will start to change that, as he systematically debunks all of the popular myths, while providing a well-researched look at what really
did
happen.
Some of the myths he sets straight:
* None of the supposed triggers were accurate. Doom, Nazi influences, bullying, etc. didn't have anything to do with it. Eric Harris was a psychopath who conceived of an attack that would outdo folks like Timothy McVeigh.
* Likewise, individual kids were not targeted. If the plan had worked the way it was supposed to, hundreds of kids would have died.
* The date of the attack, April 20th, wasn't because it was Hitler's birthday. It was originally supposed to happen on April 19th, the anniversary of the
Oklahoma City bombing
, but Eric wanted more ammo.
* Cassie Bernall wasn't asked if she believed in God, and then shot because she said yes. Eric looked under her table, said "Peek-a-boo," and shot her before she had a chance to say anything. The actual exchange happened between Dylan Klebold and Valeen Schnurr, after Dylan had already shot her, and she lived.
Columbine
is exhaustively researched and well-written. The narrative is written similarly to a novel with flashbacks, shifting back and forth from the attack and aftermath from the students', teachers', and parents' points of view, to the events in Eric's and Dylan's lives that led up to the attack. I think just about anyone would find the book interesting and easy to get hooked into, but as a Littleton teen at the time of the shooting, I found it especially compelling.