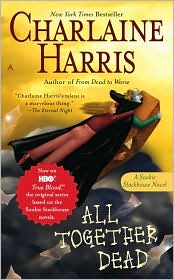 By the time you get to
All Together Dead
, book 7 of the Sookie Stackhouse novels, Sookie is involved in the vampire world in a pretty major way. With each book, Charlaine Harris is creating a vast world for the vampires, with underground government (area sheriffs and the kings and queens of each state) and politics.
Of course, being vampires, they are a bit more... cutthroat about politics. Plus, there is the anti-vampire religious group, the Fellowship of the Sun, to contend with. And Sookie gets in the middle of all that when the Queen of Louisiana employs her for the vampire summit.
Although I still didn't like the love interest in this book very much, it had its moments. It seems to solidify something in her relationship with Eric, and they do a good bit of saving one another in this book.