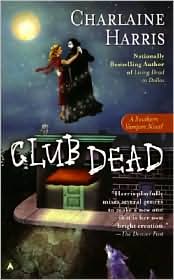 When I started reading the Sookie Stackhouse books, there were long wait lists at my library for the first and second books. There weren't many copies, and I guess probably every teenager or twenty-something girl decided to read a little
True Blood
over the summer.
I put holds on all the books, however, and I was able to get the third and fourth books from the library. I'll probably go back and buy the ebooks eventually, though, because I liked the books so much — I'm certain I'll want to reread them.
Anyways,
Club Dead
, the third book in Charlaine Harris's Sookie Stackhouse series, is the basis for the third season of
True Blood
. We don't have cable, so I haven't seen any of the third (and current) season yet, but from what I've seen of the previews, they are changing a lot more this time. I don't want to say too much, because I don't want to spoil the books (or the show) for anyone; but at the same time, I'm going to run into this problem more and more as I review each book and get further into the series.
For now, suffice it to say that it seems like they are making a lot of changes to the characters of the two leading love interests in the book, Bill and Eric. In the third book, Sookie and Bill are having problems from almost page 1, whereas in the show, he has just proposed to her when he is kidnapped. Although in both the book and the show, Sookie spends the third installment trying to rescue Bill, these differences create a very different feel for
why
she is trying to rescue him.
Like I said, one of the reasons I like the books so much is how different the main character is from most romantic novels. Not only is she independent, sassy, and blue-collar, she also has a
lot
of love interests throughout the books.
And
she saves her own butt more often in the books than in the TV show. In my opinion, that's one of the things that makes the books better.