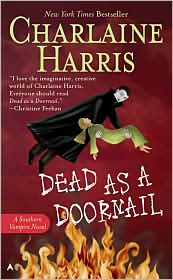 When I finished
Dead to the World
, book 4 of the Sookie Stackhouse novels, I was still on a pretty long wait list for book 5. Remember, I was finishing one of these pretty much every day! So I got impatient and bought the ebook.
Although I was disappointed that Eric didn't play quite as big a role as in the fourth book, I actually kind of knew that already, since I read the Wikipedia page on Sookie Stackhouse. (There — I admit it!) This book also felt more like a mystery than the others (despite the fact that they are called "Southern Vampire Mysteries"), since there is someone killing weres and Sookie has to find out who it is.
As usual, Sookie does a rather spectacular job of saving her own butt. She can certainly hold her own with the vampires, and that's one of the things I like so much about these books!