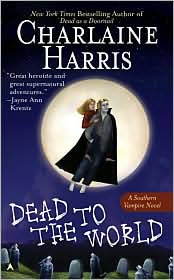 Of all the Sookie Stackhouse books, this was one of my favorites. I like Eric SO much better than Bill, and he plays a much bigger role in this book. In fact, I will probably buy the ebook for this one at some point, just so that I have it.
I'm not sure what I can say about this book without spoiling the third book (and perhaps the third season of
True Blood
) for some people, but of course the things I said about the earlier books still hold true. Sookie's narrative voice is funny and refreshing, and I love her character's spunk.
I do hope they incorporate this book into the show! I already looked up and there will be a fourth season of
True Blood
, but who knows how true to the book it will be. It may determine whether or not I
remain
a big fan of the show.