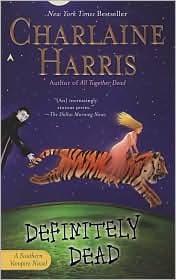 Although I loved all the Sookie Stackhouse books, I do have to say that
Definitely Dead
was one of my least favorites. Part of it is that I didn't much care for the main love interest in books 6 and 7. He was interesting, but not as compelling for me as Sookie's other love interests (
cough cough
Eric
cough cough
).
Definitely Dead
is a little confusing if you haven't read the short story "One Word Answer," when Sookie finds out that her cousin Hadley, was a vampire and died. (The short story is in the book
A Touch of Dead
, which I will review when I'm finished with the novels, since that's when I read it.) I was a bit confused, since up until then there had been only vague mentions of Hadley, and nothing to indicate she was a vampire.
Anyway, one thing I did like about this book is that it introduces a new location and new characters. Like in the third book,
Club Dead
, Sookie's involvement with the vampires forces her to travel — this time to New Orleans. We also get a wonderful new character, Amelia, who is a witch.
In fact, one of my favorite... um... plot twists happens in this book: Amelia, who becomes one of Sookie's good friends, accidentally turns her lover into a cat. There are a lot of funny moments in the next couple of books owing to that delightful accident.