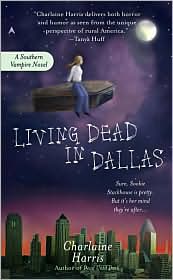 Although I haven't posted much lately, it hasn't been because I haven't been reading. In fact, quite the opposite — I've been reading up a storm. As a result, your patience will be rewarded with a daily review for quite some time to come.
Although I have many books to review before and after I read the Sookie Stackhouse books, because I loved them so much I'm going to review them first. I read all 10 books in about the same number of days, and I also read a book of Sookie short stories. Loved. Every. Minute.
I bought the ebook for the second book,
Living Dead in Dallas
, because I was on a long wait list at the library and, after finishing the first one and loving it so much, I just couldn't bring myself to wait patiently! Enter one of the biggest advantages to ebooks — you can start reading them right away, no matter what time it is, no matter how long the wait list is at the library.
And the second book didn't disappoint, either. It's basically the same story line as the second season of
True Blood
, with a few differences. Personally, I think the book is better, though of course the show does have the advantage of Eric eye candy.
One significant difference I noticed in the books was the portrayal of Vampire Bill's character. In the show he is presented as Sookie's one true love, but in the books he is old-fashioned and controlling, which she starts to tire of by the end of the second book. I rather like the fact that she is so sassy and independent, and dates a lot in the books — no fairy tale "and they lived happily ever after" here!
If you like vampire books, I can guarantee you'll love Charlaine Harris's twist on the genre!