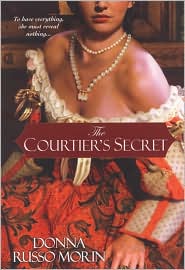 Do you ever try to read a book and just find that you can't get into it? That's the way I felt with
The Courtier's Secret
, by Donna Russo Morin. I read about 50 pages into it, and just didn't feel like anything happened to make me care about the characters. After 50 pages, I think the reader ought to feel compelled to finish the book, don't you? But I wasn't, so I didn't.
Being a quitter, deciding not to finish a book, never sits well with me. I always feel guilty, like I've done something immoral. But at the same time, there are so many books out there that I want to read, and at this point in my life, I just can no longer justify spending time on a book that I'm not enjoying.
Luckily, this doesn't happen to me very often. I'm usually fairly easy to please, and I enjoy most books I pick up. I think it is probably this particular author's writing style that just doesn't jive with me, since I read an ebook sample of her second book,
The Secret of the Glass
, and I didn't even finish the sample — I couldn't get into that book, either.
Perhaps I'll come back to this book eventually and try again. I have done that before. But for right now, I have too many books that I think I will find more interesting, so I'll return
The Courtier's Secret
to the library and read something else.