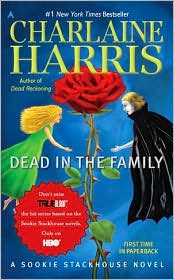 The entire time I was reading the Sookie Stackhouse novels, I was rushing along to get to this one, book 10:
Dead in the Family
. Since the book is pretty new, though, there was a long wait at the library, so I bought the ebook (even if it
did
cost twice as much as any of the others
By this book, Sookie and Eric's relationship is pretty sure, but the new political order in the vampires of Louisiana is causing problems for both of them. Then, to make matters worse, Eric's maker shows up. (In
True Blood
, he has a different maker, who dies in season 2.) This poses a threat to Sookie and Eric, too.
I think book 9,
Dead and Gone
, was kind of a turning point in the series. It was definitely darker than the previous eight, and you see signs of that in this book too. Although one of the threats is dealt with in the end of the book, you can tell Harris is working up to something big, perhaps in book 11 — which is due out next May.
I can't wait!
Edit 3/30/2011:
It appears there is now a paperback edition, which means that the ebook is no longer the cheapest edition, since it's still $12.99. Hopefully it will come down in price soon now that there is a paperback available.
Edit 8/9/2011:
The ebook edition is $7.99!