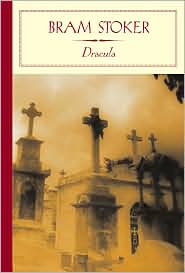 Note: The image here links to a cheap paperback edition on Barnes & Noble's website. If you would prefer an ebook, you can download one for free from Project Gutenberg.
At the end of
Dracula in Love
the author has a short note about the common interpretation of
Dracula
as a cautionary tale about female independence and promiscuity. In this view, the vampire hunters are seen as extinguishing female sexuality and keeping Victorian women in their place. The author decided to deliberately turn this interpretation on its head, creating a heroine that was instead independent and in charge of her own sexuality.
And, oh yeah, the vampire isn't bad, after all.
Reading this afterword made me want to read the classic novel again, so I did. (Luckily I had gotten it free when I downloaded Barnes & Noble's eReader — it comes with the software.) It was interesting to read the two back to back so that I could compare how the story differed between each one. In Karen Essen's novel, not only is the vampire not bad, but the heroes of the book — Van Helsing, Lord Godalming — become the villains, and their valiant attempts to save Lucy and Mina become sick manipulations meant to limit women to domesticity.
Dracula
, of course, is very different. The vampire is bad, the men save the day, and although Mina is a strong woman in her own right, her every skill exists to serve the heroes of the story.
As the father of the modern vampire genre,
Dracula
is interesting to read, but it is also pretty tedious at times. For instance, Van Helsing has a rather boring soliloquy about why it's not such a stretch to believe that vampires exist.
One comment I do have to make is how much I like the
eReader
for checking footnotes. It was fast and easy to touch the corner of the page to place a bookmark, touch the link for the footnote, and then use the bookmark to find my place again. The footnotes in Barnes & Noble's edition of the novel (the one I've linked to here) were helpful without going overboard and footnoting
too
much. (I hate wasting perfectly good reading time on checking footnotes with obvious or uninteresting information.)
Despite how tedious the story is at times, I enjoyed rereading
Dracula
. It served as a nice contrast to
Dracula in Love
, which I had just finished, and I like seeing the inspiration for many of my favorite vampire novels. You can see in its pages the roots of Anne Rice's Vampire Chronicles, Stephanie Meyer's
Twilight Saga
, and Charlaine Harris's
Sookie Stackhouse novels
.