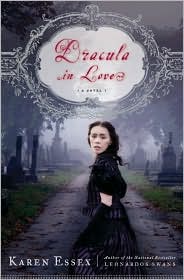 I was lucky enough to get
Dracula in Love
from the library almost right away, even though it was a new book. I had noticed it at Barnes & Noble one night when we were there, and I was intrigued by the idea of the story told entirely from Mina's point of view.
One of the things I really liked about Karen Essen's book was that she wrote it in a style that was fairly in keeping with a book of that era, complete with the "Dear Reader" type thing. It was subtle, but it was enough to make the book feel very authentic.
As Essen says in the author's note at the end of the book, she wrote her novel with the intention of turning the original story on its head.
Dracula
is often interpreted as a statement against female sexuality, and Essen exposes the era's fears in some of the ways she changes the story. For instance, when Mina visits the mental hospital, many of the patients are actually women who have deviated from the accepted norm in some way: By refusing housework, exhibiting sexual appetite, etc.
Although
Dracula in Love
is close enough to the original story to be recognizable, Essen changes quite a bit. Her Dracula is handsome and devoted, her Mina is strong and decisive. She even gives an explanation for why Stoker got the story wrong — as a character in her novel, he is looking for local stories as good material for the theater. (
Dracula
was originally a play as well as a novel.)
I did read
Dracula
a few years ago, but reading this novel made me realize how little of the story I actually remember. As soon as I was done with
Dracula in Love
, therefore, I reread
Bram Stoker's version
. I'll blog about that one next, but in the meantime, do check out
Dracula in Love
— it's well worth reading!