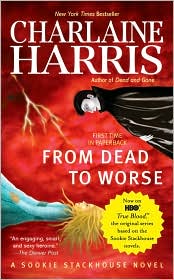 Although I hadn't liked
Definitely Dead
and
All Together Dead
— books 6 and 7 of the Sookie Stackhouse novels — as much, I did really like
From Dead to Worse
. I think part of it was that I was always rooting for Sookie and Eric to get together, and in this book they start heading in that direction. Sookie calls off her relationship with the weretiger that was in books 6 and 7, for one thing. Also, Sookie and Eric have exchanged blood so many times that they now have a pretty close bond, and that plays a major part in the events of the eighth novel.
From Dead to Worse
deals a lot with the politics of the different groups of "supes" Sookie is involved with. There are major upheavals going on with both the local weres and the vamps — both groups are trying to resist political takeovers. Also in this book, you find out about Sookie's connection to the fairies, yet another group of supes.
As with all of the Sookie Stackhouse novels, one of the things that I really love about this book is the unique narrative voice Charlaine Harris creates. In a genre that is usually dramatic, serious, and more often than not, angsty, Sookie's irreverence really stands out!