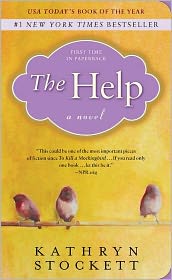 This is one of those books that I read a couple of weeks ago, and am only now getting around to blogging about, now that I'm playing catch-up. I'm getting close to the end of the list, though — only about half a dozen to go, and I'll be caught up.
My mom recommended
The Help
to me a while back, but I was on the library waiting list for months before I finally got it. When I first started the book, I wasn't sure about it — it seemed interesting, but not as compelling as she'd made it sound — but the further into it I got, the harder it was to put it down. In fact, I read about half the book — the second half — in one night, only going to bed once I'd finished it, around 4am.
The novel is about a small town's black servants, and the affluent white women who employ them. In the novel, a young white woman named Skeeter decides to write a book about the black women's experiences in her town. The novel takes place in the South in the 1960s, so it was a particularly sensitive topic, and an especially daring project to undertake.
I don't always believe that just because a book is widely read, necessarily means it's a good one, but for
The Help
that definitely is the case!