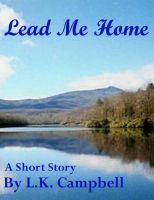 This short story is a free ebook from Barnes & Noble, so feel free to click on the link and download it for free. You will need their ebook reader software to read it, but the Nook app can be downloaded on your computer, Apple device (iPod, iPhone, iPad), and I think some other smartphones as well.
Edit 8/9/2011: I no longer see a listing for this on Barnes & Noble's site, so the image link you see goes to the Smashwords listing.
That being said, I actually wasn't all that impressed with this story. Many of the reviews on BN.com complained about it being too short, but I didn't think that was the root of the problem. It is possible for a talented writer to develop characters and stories you can care about, even in a short number of pages.
To me, the problem with this story was that it was too cliched. It was romance, so maybe that was the problem — it's been a long time since I've read romance. But judging from the number of bad reviews, I rather suspect it was just poor writing. Maybe the author is better at writing full-length novels, who knows — but with a free short story like this marketing their books, there is no way anyone is going to pay for a book to find out!