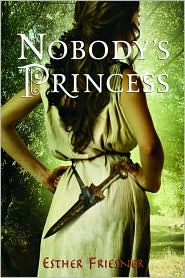 I have a lot of books to review — even though I wasn't blogging much for a little while, it wasn't for lack of
reading
. I am not going in any particular order, so I'll actually be jumping around a little.
Anyways, I have to admit it — I do check the young adult section at Barnes & Noble periodically. Some of the best books I've read have been young adult, and I'm not ashamed to admit it. Heck, the Harry Potter and Twilight Saga have both become hugely popular, and NOT only with the audience they were intended for. I know plenty of adults who have been obsessed with both series.
I have seen this book,
Nobody's Princess
, and the sequel,
Nobody's Prize
, many times. It always interests me when an author rewrites a myth (Robin McKinley's
Beauty
comes to mind), so I decided to check them out.
The books are about Helen of Troy, but I was surprised to discover that neither dealt with the stuff about her that everyone knows — as the catalyst for the Trojan War.
Nobody's Princess
was about her early childhood and adventures. I didn't know that Helen was Spartan, did you?
I didn't like this book as much as the next one, but I did enjoy the part of the book where she was learning to ride. The woman who taught her, a woman hunter and warrior, was a great character. The feel of the book reminded me of Tamora Pierce's Protector of the Small, a series of four books about a girl who trains to be a knight.
I thought the next book was better — the purpose of this book seemed to be more or less to set up
Nobody's Prize
— so stay tuned for my next review!