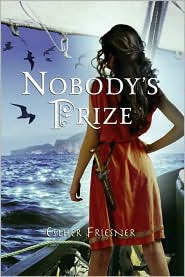 After reading
Nobody's Princess
, I went right on to
Nobody's Prize
, so the two seemed to me like a single novel. In some ways I think they should have, because (in my opinion) all the more interesting stuff happens in the second book. The first one seems like the purpose is primarily to set up
Nobody's Prize
.
This book gets more into the early legends of Helen of Troy. For instance, she spends a good portion of the book as King Theseus's prisoner. I didn't even know about those legends — like most people, I'm sure, most of what I knew about Helen of Troy had to do with her role in the Trojan War.
In my review of
Nobody's Princess
, I compared these books to Tamora Pierce's Protector of the Small, which is a series of four books:
First Test
,
Page
,
Squire
, and
Lady Knight
. Friesner's portrayal of Helen is very much like Pierce's heroine's: precocious and spirited. I can definitely see how a lot of preteen and teen girls would love these books.