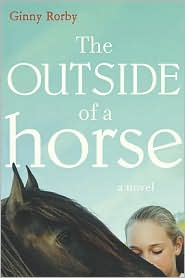 This is another of the YA novels I have read recently:
The Outside of a Horse
, by Ginny Rorby. A couple of years ago, I read Rorby's
Hurt Go Happy
, and after I blogged about it, she emailed me to thank me for my review. She also added me to her mailing list, so I received her email blast announcing
The Outside of a Horse
.
I'd loved
Hurt Go Happy
, and being a horse owner, I was excited to see that her next novel was about one of my greatest passions. However, I was totally unprepared by how much this novel would affect me.
The novel is about a 13-year-old girl named Hannah who gets into horse rescue. She starts working at a neighborhood stable just before her father comes back from Iraq with an amputated leg, and before long is helping the boarders rescue neglected and abused horses. It is her connection to the horses that help her — and ultimately her dad, too — get through the changes in their lives. And, in turn, it is her and her dad's experiences that help to save the life of a little filly Hannah falls in love with.
Followers of my
Pony Tales Blog
already know that I rescued my horse as a yearling from backyard breeders. Maybe that's why I was so moved by this book — I even
wrote to the author
. Horse crazy girls are going to love this novel, but judging from my own experience, so will women who are still horse crazy little girls at heart!