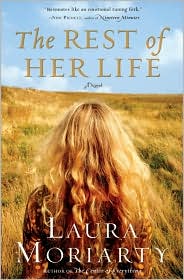 Note: The image links to the bargain book listing at Barnes & Noble, where you can get the hardcover for only $2.99. This price won't last long, however, so be sure to get it while you can!
I've seen
The Rest of Her Life
at Barnes & Noble on the bargain table for months now, and I finally remembered to put it on my library list. (Thank heavens for the library — as fast as I read, have you any idea how much money I would spend if I bought all of these books?!)
Anyway, I initially assumed this would be mainstream fiction, but a little ways into the book I realized it read more like literary fiction. It was very much character-driven, rather than plot-driven. The plot was important, because that's what put the characters in the positions they were in, but at the same time it was the mother's and daughter's characters, and the friction between them and various other characters in the book, that drove the story.
It's been a while since I've read good literary fiction, so it was somewhat of an adjustment after being in mainstream fiction-mode for so long. But I do have to say I really enjoyed the book, particularly the analysis of the relationship between mother and daughter.