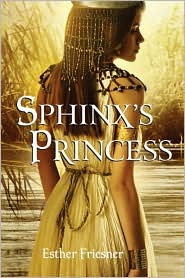 Although I love Greek mythology, I actually ended up liking this book better than the other two I read by Esther Friesner,
Nobody's Princess
and
Nobody's Prize
, about Helen of Troy.
Sphinx's Princess
is about Nefertiti as a young girl, about her childhood and her move to the palace, and her early friendship with Amenophis (Akhenaten), whom she later married.
I don't know much about Nefertiti, so I had no expectations going into the book, and I think that is partly why I liked it more than the others. I also am fascinated with Ancient Egyptian culture. After I finished the book, I looked up Nefertiti and her husband, and discovered all kinds of things that weren't in the book because they have to do with her later life, such as how the two of them were known for introducing monotheism.
When I was looking for more information on the book, I also discovered that, just like with
Nobody's Princess
, Friesner has written a sequel:
Sphinx's Queen
, which will be available later this month. I'm looking forward to reading it!