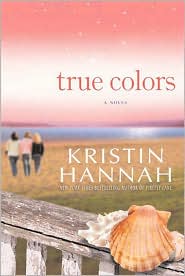 As I mentioned before, I'm not catching up in any particular order, so I actually read this book a LONG time ago. But it has stuck in my head enough that it really is worth going back and blogging about.
True Colors
is about three sisters — the ways their lives diverge, their complex relationships with each other and their bitter father, and how betrayal — both real and perceived — can rip their fragile ties to shreds.
The events of the novel mostly center around the youngest sister, the only one who stays at home and helps to run the family ranch. As a horse person, of course I loved this part of the novel in particular. Although the horses didn't figure as a major part of the novel, it was an underlying theme, big enough to satisfy my horse-craziness!
This was the first book by Kristin Hannah that I ever read, and so far it is the one I liked the best. All of her novels seem to be this kind of thing: women's fiction, about women and their relationships, with men and one another. She is a new favorite author for me, and I highly recommend her books — especially
True Colors
!