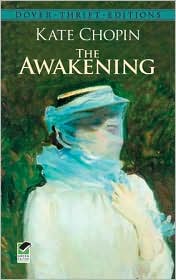 Note: The image links to an inexpensive paperback edition available from Barnes & Noble. If you would prefer the ebook, you can download a nicely formatted edition for free from Girlebooks.com.
I discovered mid-week last week that it was
Banned Books Week
, and decided to take a break in my current read to honor one of the books on the list of
frequently challenged books
. I was looking for something relatively short, since I was interrupting my current read, something that was either new or that I couldn't remember reading, and something that was available in ebook at an affordable price so that I could get it right away! With these criteria in mind, I chose
The Awakening
.
I may have read
The Awakening
in high school — I can't remember for sure. Or maybe I just read the end, as I remember reading something by Kate Chopin out of a textbook. I also had read something
about
the novel (or novella?) before, since I knew how it ended.
It took me longer to read than I expected, but I did enjoy it. The story is about a well-to-do young wife and mother who falls in love while on vacation. This inspires her to start questioning her life up until then: her marriage, her motherhood, her family, even her daily activities, such as accepting society callers every Tuesday in her home (after returning from vacation). Apparently just as in love with her as she is with him, the object of her affection leaves for a while, and Edna spends a lot of time pining for him — which encourages her to question her life even more.
An anonymous reviewer on Barnes & Noble's website wrote about the book,
"She had a husband that treated her well and two children but decided that wasn't the life for her. Instead she fools around with another man while in love with a different one than that. She is a tease and just couldn't surrender to the conformity of life."
Obviously this person missed the point of the book, but I can't help but feel that it is this kind of attitude that has resulted in this book being challenged so frequently. Despite having everything she needs (or is supposed to need, being a woman), when she looks at her life with a more discerning eye, Edna finds she is unhappy. This leads her to question a society woman's role in life, and ultimately comes to the conclusion that there is only one way to resolve her unhappiness.