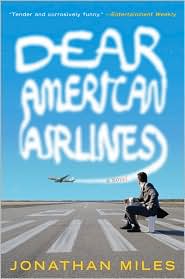 Sorry for the lack of posts this month. I was reading a very long book,
A Clash of Kings
, which meant no new posts — and then last week, when I read several other books, I took an unscheduled vacation and didn't update any of my blogs.
I took a short break during
A Clash of Kings
to read this book, which was due back to the library. When I first heard about
Dear American Airlines
— on NPR, I think it was — I have to admit, I thought it was nonfiction. I thought it sounded like an interesting premise for a book.
It turned out to be a novel, but not one that interested me terribly much. The rants about the situation (being stranded because of a canceled flight) were funny at first, but it got old pretty quickly. I found the flashbacks into the character's past more interesting, but the character himself wasn't very likeable. Thank heavens it was short. I ended up skimming it just to read the flashbacks.
So, I have to say that this is one of those rare books that I would
not
recommend... to anyone. I always feel awful about giving a bad review, but I really hated this book!