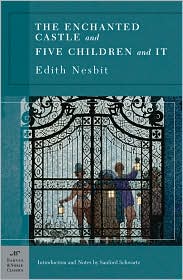 Note: The image links to an inexpensive paperback edition at Barnes & Noble. If you prefer an ebook, you can download a nicely formatted version for free from Girlebooks.com.
After rereading
Dracula
— which is long and somewhat tedious in parts —I decided I needed something a little more lighthearted. I had gotten
The Enchanted Castle
— one of my all-time favorite children's books — for free during Barnes & Noble's
free classic ebooks
promotion, so I decided that would be perfect.
Rereading a book I haven't read since childhood is always an interesting experience. It surprised me how much of
The Enchanted Castle
I had forgotten, although it came back to me as I read. Also, Nesbit had a lot of fun with the childish antics of her characters — stuff that I didn't get when I was a kid, too. I read the book several times as a kid, but it's probably been nearly 20 years since the last time.
I remember the first time I ever read this book. Every summer when I was a kid, my mom would take my sister and I to a resort in the Pocono Mountains in Pennsylvania. We would spend a week there with my grandparents, and sometimes, my uncle and cousins, too.
The place had a library where I would spend a lot of my time. It was a large room with walls of bookcases with glass doors, and a handful of comfortable chairs strategically placed around the room. Guests could check books out by writing down the book title and your room number in a big ledger left on the desk. It was a bookish kid's dream-come-true of a library.
Anyway, during one visit I found a copy of
The Enchanted Castle
. I only was able to get about halfway through it before we left, though, so when we got home my mom scoured the local bookstores (this being in the days before Barnes & Noble superstores) to find me a new copy. I still have that paperback, actually, boxed up with other favorite childhood books like
The BFG
and
A Wrinkle in Time
.
Maybe it is memories of those summer trips that makes me love this book so much, but I don't think so.
The Enchanted Castle
is the kind of book kids always love: one adventure after another. I always loved E. Nesbit's books — in fact, I tried to get away with reading under the covers with a flashlight when I read
Five Children and It
as a kid — but
The Enchanted Castle
is still one of my all-time favorite books of my childhood.