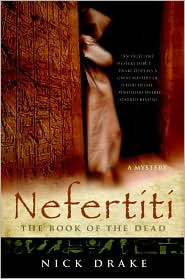 For Christmas last year my mom got a desk calender that had a new book recommendation for every single day. Having no use for it herself, she gave it to me, and I promptly gave it to my husband for his desk at work. Occasionally he brings home a stack of the pages, and that is where I found out about this book.
Nefertiti: The Book of the Dead
is a novel about the disappearance of the famous queen during the 12th year of her husband's reign. A detective from another town is hired to find her, and he is the one who narrates the book.
The story was of course fictional, but it was a good mystery, and the period itself was incredibly well researched. The book did take about 30 or 40 pages to pick up — it wasn't until they found a body of someone they thought was the queen that I started really taking an interest in the story.
I used to be quite fascinated with Ancient Egypt, and if you have similar interests, I think you would love this book. In fact, I think anyone who likes historical fiction would enjoy it, so that's how I have categorized it on my blog — even though it is also a well-written mystery!