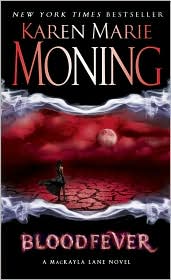 My experience with Karen Marie Moning's Fever series highlights one of the ways in which ebooks are so great. After finally getting around to reading a free copy of
Darkfever
that I downloaded months ago, I was so hooked that I immediately bought the second book,
Bloodfever
. Buying the ebook allowed me to buy and download the book as soon as I finished the first book — instant gratification!
I wasn't disappointed, either. The suspense continues to build throughout
Bloodfever
, as the larger story line develops. I think a person would be pretty lost if they hadn't read
Darkfever
first, though the second book does have a story of its own — but it also has a cliffhanger ending that had me hurrying to buy and download the third book the instant I finished this one!
The basic premise of the series is that MacKayla Lane, a small-town girl from Georgia, comes to Dublin to see what she can do in the investigation of her sister's murder. There she discovers that she is descended from an ancient bloodline of women who can see through the glamour that the Fae use to disguise themselves from humans. She gets drawn into the battle to save our world, just as her sister had, but she is also seeking her sister's killer!
These books are unique and addicting in a huge way, and I highly recommend them to anyone who enjoys vampire fiction and dark fantasy!