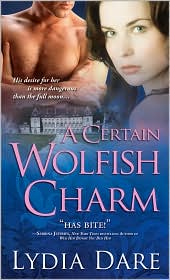 This makes my third romance novel in the last couple weeks. Good heavens... What is happening to me?
Especially considering I really
liked
this one.
Beyond the Highland Mist
was all right, but a very typical romance novel — kind of cheesy in parts. I read it mainly because I am so obsessed with the same author's
Fever series
. And
Kiss Me Deadly
wasn't much to speak of — I didn't get further than about 30 pages in that one.
A Certain Wolfish Charm
was surprisingly good, though. No possessiveness or controlling behavior from the guy, and the heroine wasn't so weak that I wanted to bang my head against a wall. The story was reasonably good, the characters were believable, and all in all it was a pretty decent read. The sex wasn't quite so cheesy, either, which was a bonus.
A Certain Wolfish Charm
is a werewolf romance, which makes sense because paranormal and dark fantasy seems to be my thing lately. (
Sookie Stackhouse
,
Fever series
, etc.) There is some angst about whether he can trust her with his secret and if she'll ever find out what he's hiding from her, but it's pretty well done. I rather liked that Lydia Dare made her heroine a pretty independent-minded woman, without having to make her fight with her love interest all the time. I hate that. Take note, romance writers: Fighting does NOT equal a strong woman (OR good romance, for that matter).
I downloaded this ebook while it was offered free as a promotion, no doubt, for the other three werewolf romances by the author. I'm not going to rush right out and buy the others right away, but I think I'll read them eventually — I was pretty impressed with this one.