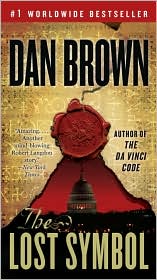 I think I've mentioned that I check Barnes & Noble's website frequently, almost daily, for free ebooks and ebook promotions. Sometimes the sales don't last long, so if I don't check frequently, I might miss out! A perfect situation to bring out my OCD tendencies, I'm afraid.
But I digress. Tonight I was checking the NOOKbook Deals section of Barnes & Noble's website, and I discovered that Dan Brown's
The Lost Symbol
is on sale for only $3.99. It appears that it is normally $9.99, so that's a pretty good deal! I don't know how long it will last, though — it might be just a post-Thanksgiving sale — so don't wait!