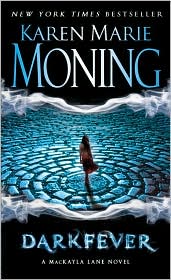 I got this ebook for free months ago, but it didn't stay free for long! I think it was part of a promotion to get readers hooked on the series. Well, it worked! After finally getting around to reading
Darkfever
last week, I bought all three subsequent ebooks, and tore through them within a few days.
The books remind me a lot of Charlaine Harris's
Sookie Stackhouse
books (the basis for the
True Blood
HBO series), in that the heroine is young, blond, and gets mixed up in a world of supernatural creatures. In these books, though, they are Fae, rather than vampires. It's quite the ride, and a refreshingly different take on a popular theme.
The books are actually parts of one larger story. The first book stands fairly well on its own, but it definitely gets you hooked. MacKayla finds out that her sister has been murdered while away at college in Dublin, and when the investigation fizzles out, decides to go there to find out firsthand what's going on. Instead of making a few inquiries like she thinks she will be, however, she discovers that she is one of the rare few who can see the Fae, and gets sucked into a world she never even dreamed existed.
It turns out that her sister could see them too, and got involved with something that got her killed. Mac finds herself retracing her sister's steps, trying to find a mysterious book that apparently has the power to save our world, and that she alone seems to have the ability to find. Unfortunately, everyone wants this book, which means that Mac is getting used left and right, and doesn't know who to trust.
If you are the type that likes to wait until a series is finished before you start reading, so that you don't have to wait for any sequels, the fifth and final book is due out January 18, 2011. I do highly recommend the books to anyone who likes dark fantasy books such as vampire novels — they are highly addictive and well worth reading!