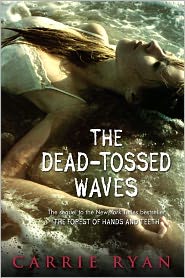 I picked this up from the library Monday night, and had it finished Tuesday afternoon. Much like the first book,
The Forest of Hands and Teeth
, I could hardly put it down, though I did finally have to in order to go to sleep Monday night — so instead of one sitting, I read it in two!
The Dead-Tossed Waves
continues Mary's story, but through the eyes of her daughter, Gabry. Mary and Gabry live in a world where fences and barriers are the only things that keep the zombies at bay. But instead of the fences being used to keep out the Mudo, or Unconsecrated, they have come to be seen as keeping the people
in
.
Although Gabry doesn't have a burning desire to know what else there is beyond the walls of her down, as her mother did when she was her age, she gets talked into climbing over the barrier with her friends. Unfortunately, it goes badly, and Gabry is forced to make the choice she never wanted to be faced with: whether to stay, or go.
Both
The Forest of Hands and Teeth
and
The Dead-Tossed Waves
are incredibly suspenseful books — obviously, since I couldn't put either one down! Even though they are technically young adult, I think adults who like horror and dark fantasy would enjoy them just as much as I did.